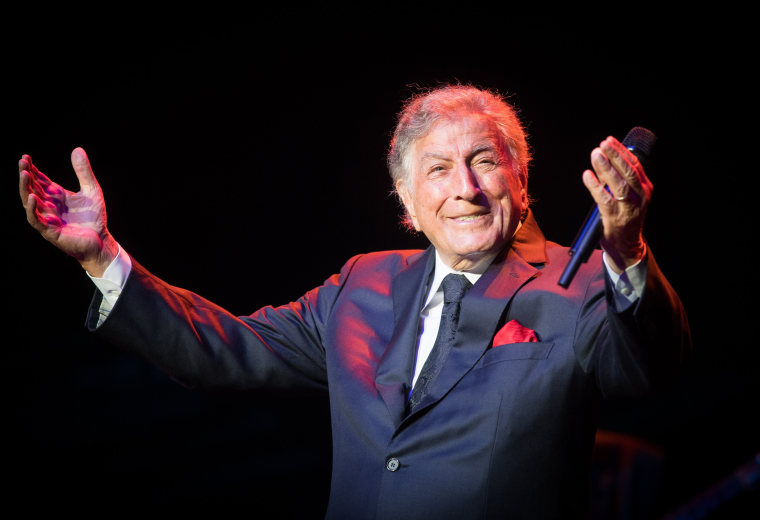 In the entertainment business there comes a time when a star becomes more than just a star. That person becomes larger than life, as they say.
A handsome New York City native, it was clear early on that the young man was going to be a singer.  After all, not many 10 year-olds sing standing next to the Mayor.  Remember that the next time that you cross the Triborough Bridge.  Anthony sung at its opening.  Not all was joy at this age for him, however.  Not many 10 year-olds lose their father, like young Anthony did.
But the effects of the Great Depression were never lost on the young man, as he developed immense empathy and a passion for art and literature.  And unlike some of his contemporaries, he never backed off his platform for people.
Anthony could have been anything.  Attractive, bright, charisma dripping from his pores, at 18 he was drafted into the World War II effort and would join the front lines.  The next time we think about our hearts in San Francisco  we should consider the hearts Anthony saw left behind in hand to hand combat, in Germany.
He wrote it down for us.
During his time in combat, Benedetto narrowly escaped death several times. The experience made him a pacifist; he would later write, "Anybody who thinks that war is romantic obviously hasn't gone through one," and later say, "It was a nightmare that's permanent. I just said, 'This is not life. This is not life.'"

At the war's conclusion he was involved in the liberation of a Nazi Concentration camp near Landsberg where some American POWs (Prisoners of War) from the 63rd Division were also being held.
Tony, as he was now being called, would carry this experience throughout the rest of his life.  Along the way he became, a superstar, an icon, and an American standard by which other performers are measured.  And when he heard talent, he recognized it.  And when talent heard him, they recognized his too.  From no less than the Chairman, himself:
Bennett was praised often by his peers, but never more meaningfully than by what (Frank) Sinatra said in a 1965 Life magazine interview: "For my money, Tony Bennett is the best singer in the business. He excites me when I watch him. He moves me. He's the singer who gets across what the composer has in mind, and probably a little more."
His was a smooth, jazz influenced style, with the kind of cool one couldn't buy on Savile Row.  His ego did not drive him so much as his desire to make timeless art, which is why he ignored critics and ridicule to work with young Stefani Germanotta, a fellow Italian and together, defying odds, created a No. 1 Billboard duet, Cheek-to-Cheek in 2014.
By the way Anthony at this point, was 88, breaking his own record as the oldest living performer to accomplish the feat.
Anthony and Stefani, better known as Tony Bennett and Lady Gaga, would be friends for the rest of his life.
Anthony was at once a superstar, war hero, New Yorker, and if you are from there or know people there you know that is a term of endearment, a teacher, a collaborator, husband and father.  Along the way, he sold over 50 million records, won 20 Grammys, 2 Emmys, and a lifetime achievement award.
I would say he will go down in history as a spectacular singer.
But there is so much more to be said for a man's 96 plus years, that would take dedicated study to properly put into context.  Some will try.  Most, will fail, as would I if I attempted to quantify the unquantifiable. Were I to attempt to write an Associated Press summary, I would not do him justice.
Nobody could.
I got to see Frank Sinatra perform, but I missed out on Tony Bennett.  I know the catalog however.  Yet I had another reason to write this tribute.
The 10 year-old who lived through the loss of his father, had his head patted for singing "Marching Along Together on the Triborough Bridge by Mayor Fiorello LaGuardia are good reasons.  The young man who before his 19th birthday helped to liberate a concentration camp, that is a great reason.
His artwork in paint, a great reason.
His lifelong commitment to humanity, tireless efforts on behalf of President Obama, and embrace of a once in a generation talent named Stefani, in the midst of her rise, are great reasons too.
And the man had a commitment to excellence, as he did not want just hit records, he wanted a hit catalog.
But in the end the reason I wrote this, is because the hit catalog I am most grateful for and impressed by, had nothing to do with music.
That is quite an accomplishment, when you are born as Anthony Dominick Benedetto and leave this world, as Tony Bennett.
-ROC
"One of the early gifts I got was from my mother. She always insisted on top quality. She would make those penny dresses, and the more she made, the more money she would earn. But even still, she'd throw away a bad dress. Always quality. Ever since, I never wanted to do a song that would insult the audience. That's the way to make music that lasts. Like a dress that lasts."
-Tony Bennett